PLEN-3: Extending Signal Processing into New Application Areas
Date: Thursday, March 18, 08:15 - 09:30
Presented by
James Truchard, National Instruments
Abstract
Signal processing is a proven foundation for acoustics, radar, speech, digital television, broadband communications, GPS, smart phones, and many more. More recently, signal processing has entered new application areas, with research exploring security, bioinformatics, forensics, power distribution, language, networking, and a variety of others.
This presentation will explore what's needed to foster continued growth of signal processing into new application areas. For instance, growth requires enabling a broader range of people to design and implement systems that include signal processing. New opportunities for signal processing applications will result by allowing domain experts to focus on the specifics of their applications and apply signal processing as a tool to implement their ideas.
To enable continued growth we also need to consider how to fully engage the performance potential of DSPs, FPGAs, CPUs, and GPUs. We must face the challenges of parallel programming as these and other possible targets for implementing signal processing add cores to increase processing power.
National Instruments advocates a graphical system design approach in which domain experts can work on a single platform to rapidly design and prototype real time signal processing algorithms. The basis for the software portion of the platform is LabVIEW, an open graphical development environment that enables domain experts to express parallel computation with an intuitive, visual representation that resembles flow diagrams commonly used to express signal processing algorithms.
Speaker Biography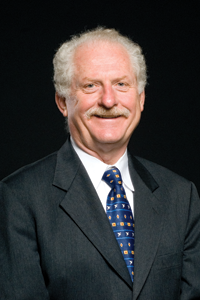 Dr. James Truchard, National Instruments president and CEO, cofounded the company in 1976 while working at The University of Texas at Austin. Under Dr. Truchard's leadership, NI pioneered the development of virtual instrumentation software and hardware which has revolutionized the way engineers approach measurement and automation applications. He has been recognized worldwide for his work with numerous awards and was also inducted into the National Academy of Engineering in 2007 and the Royal Swedish Academy of Engineering Sciences in 2003. He also serves on the Advisory Board of the Department of Electrical Engineering and Computer Sciences at the University of California, Berkeley.
Dr. Truchard has grown NI from a three-man team to a global organization with more than 4,600 employees that has experienced 30 years of growth in its 31- year history. As NI grows, the company continues to thrive on innovative technologies. More than 200 new products are developed each year and used in test, control, and embedded design applications at more than 25,000 companies annually.
During his tenure, the company's flagship product, NI LabVIEW graphical programming software, has evolved into an integrated development environment incorporating multiple computational models including data flow, C code, UML compatible statecharts, dynamic system simulation and control, as well as .m file textual math and analysis. The resulting programs can be written as inherently parallel applications, and are easily mapped to parallel hardware architectures such as multicore processors and FPGAs for optimal performance. Dr. Truchard will discuss both the history of innovation and the technology behind NI.